Art Competition
Jury report 21.4.2022
News 21.4.2022: Data mycelium and a sculptural illusion - winning proposals of Aalto University's public art competition celebrate engineering
"ENGINEERING MATERIALS" -THEME
This public art competition seeks to find art proposals for a specific place on the Otaniemi campus area, namely the K2 building façade at Aalto Works Block (Puumiehenkuja 3, Espoo). The building is from 1965 by architects Jaakko Kontio and Kalle Räike. https://www.aalto.fi/en/campus/aalto-university-works
The art theme "Engineering Materials" is honoring and respecting the Otaniemi areas long history with educating engineers. Simultaneously the core idea is also to focus on engineering as a verb. Aalto University is well-known for its material research on different fields. Joining unexpected materials, for example biomaterials for clothes, nanomaterials, is in the heart of creating sustainable solutions. There is a strong wish for the art works to be or include light art. Successful proposals will follow the visions of public art at Aalto University.
Aalto Works -city block is connecting different fields, disciplines and beyond, for example mechanical engineers with fresh start-ups. The "Engineering Materials" collection of artworks aims to create both critical questions, but also inspiring aesthetics in the environment of work and study. Art works are there to challenge our minds and to enhance environment where the sense of community is highly valued. The art theme builds expectation for engineering the future.
The art competition encourages you to be brave with your ideas! At this stage, we are looking for a variety of great ideas for our common campus.There has been a strong wish from the user group to get light art into campus, so this will be emphasized in the art competition.
WHO CAN PARTICIPATE?
This open art competition is for all artists. We encourage also multidisciplinary teams to participate. All competition proposals should be anonymous.
BACKGROUND FOR THE COMPETITION
A successful proposal will follow themes and the visions of public art at Aalto University. Aalto University has made a decision on complying with a one percent art principle in its building projects. The art percent principle is a funding model for art purchases, where approximately one percent of a building project's funds is allocated to art purchases. Aalto University applies this principle to new construction projects, renovation projects as well to infill development and infrastructure development. Art procurements are made by purchasing ready works of art, ordering site-specific art works or organizing art competitions.
The vision of public art at Aalto University is to address and raise questions about what it is to be a university, what we do together in society, and what constitutes the public. Based on these and other enquiries, public art is site specific and connects with the diversity of the university and its post-disciplinary communities, which extend beyond Otaniemi to global networks. Public artworks reflect this diversity through different art forms, materials, techniques and traditions.
The aim of public art across Aalto is to create a vibrant environment for experiencing the world through various perspectives and embracing imagination, intuition and exploration. Contemporary public art often raises critical questions about history, the present and the future, and reflects values of Aalto such as passion, courage, freedom, responsibility and integrity. These questions and values help guide the procurement of artworks at Aalto University.
More about public art at Aalto University: https://www.aalto.fi/en/research-art/public-art-collections-at-aalto-university
Now we are looking for ideas in this competition. The aim is to find possible ideas, which can then be further developed and to be actually realized. A separate contract will be made for this.
COMPETITION AREA
The length of the building on the competition side is 85 meters and the height of the building varies from 7 meters to 8 meters.
The areas for art proposals are marked on the map in red.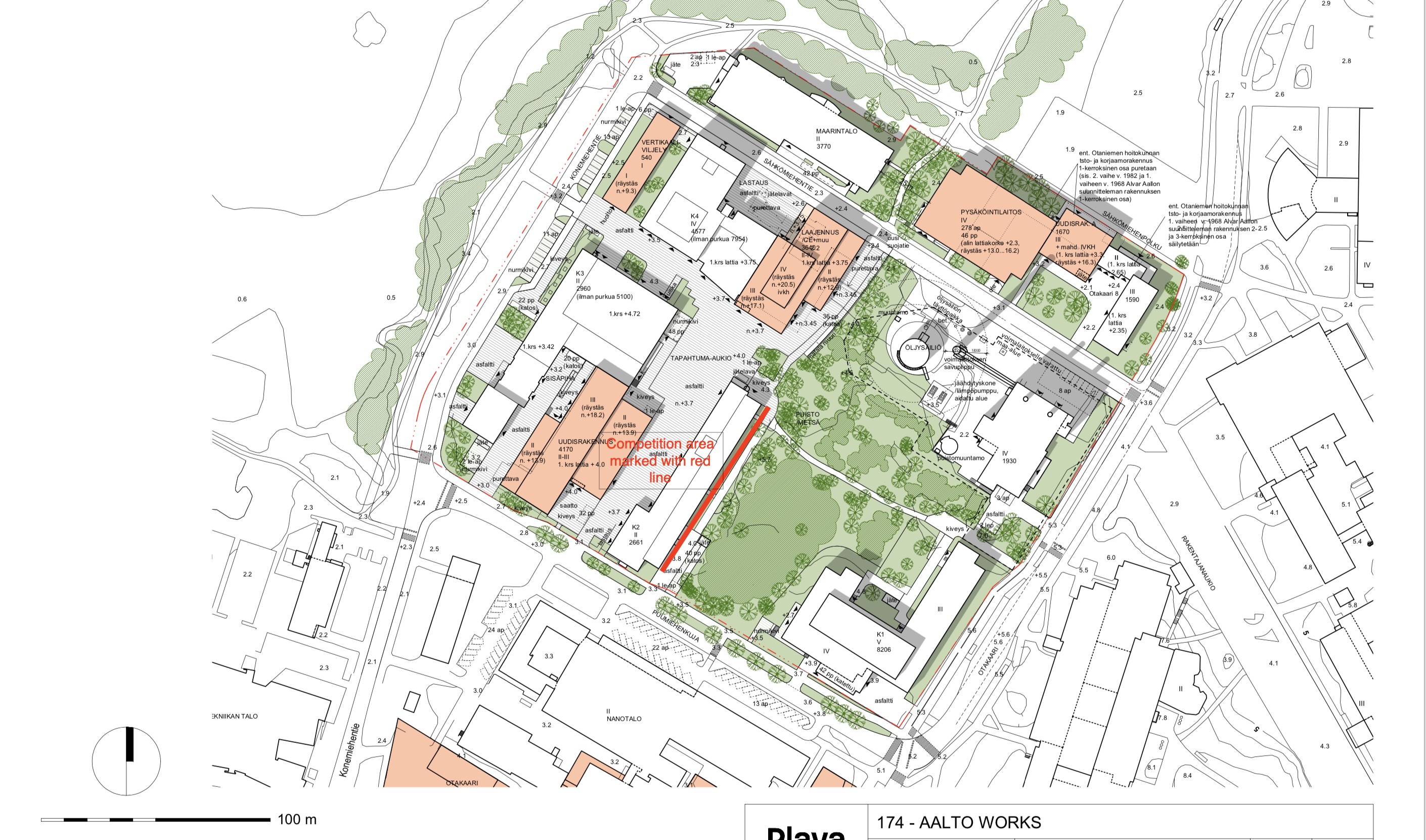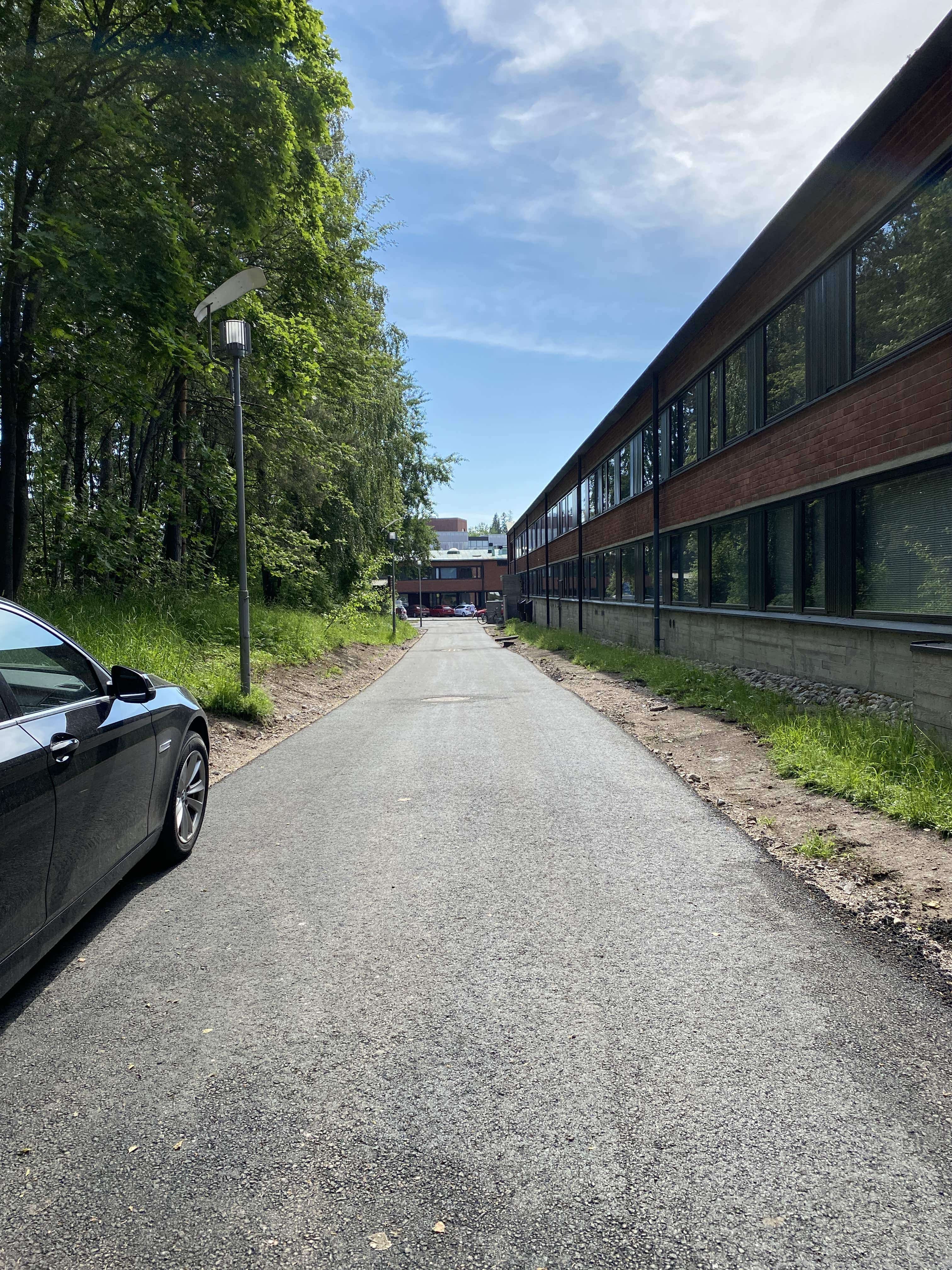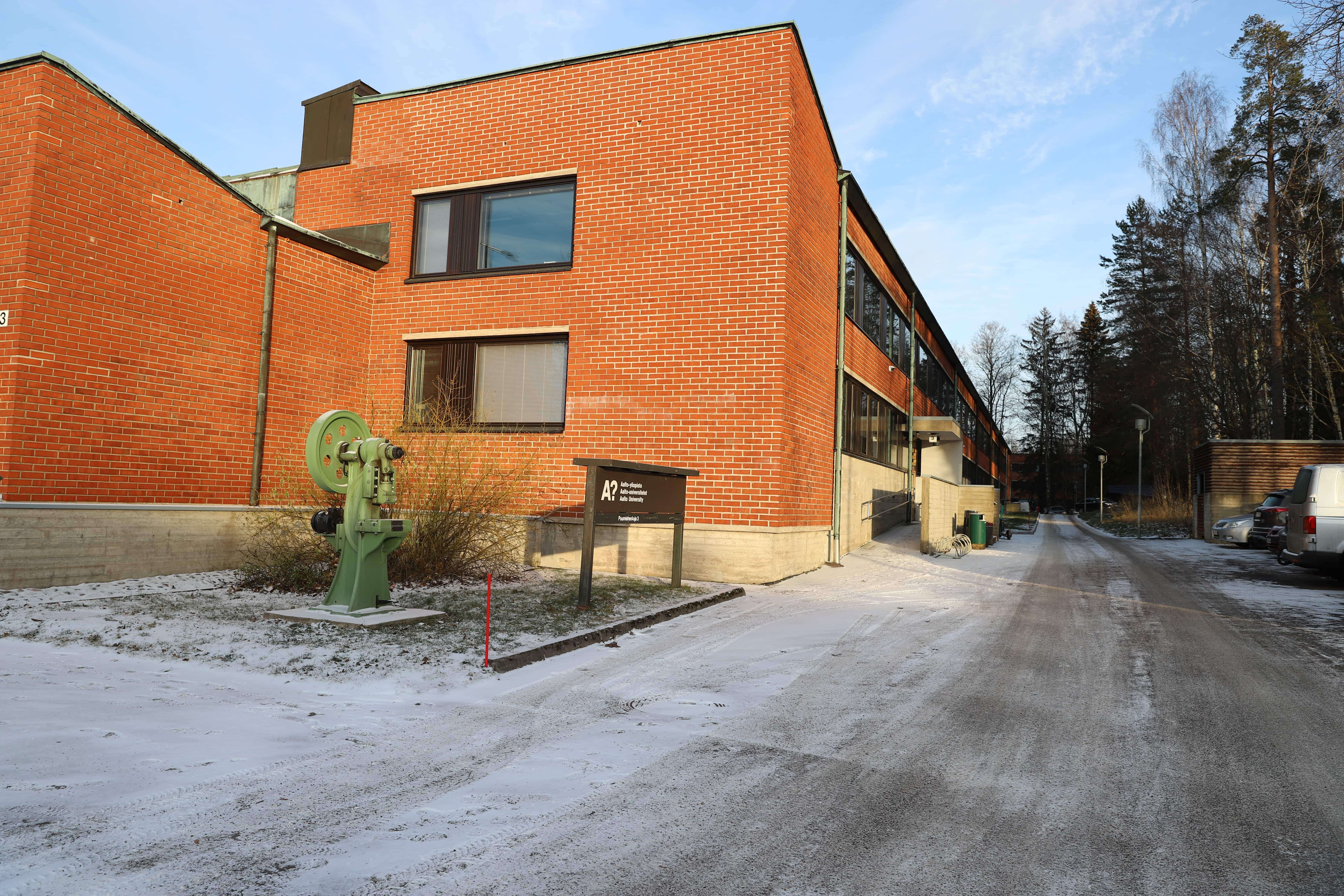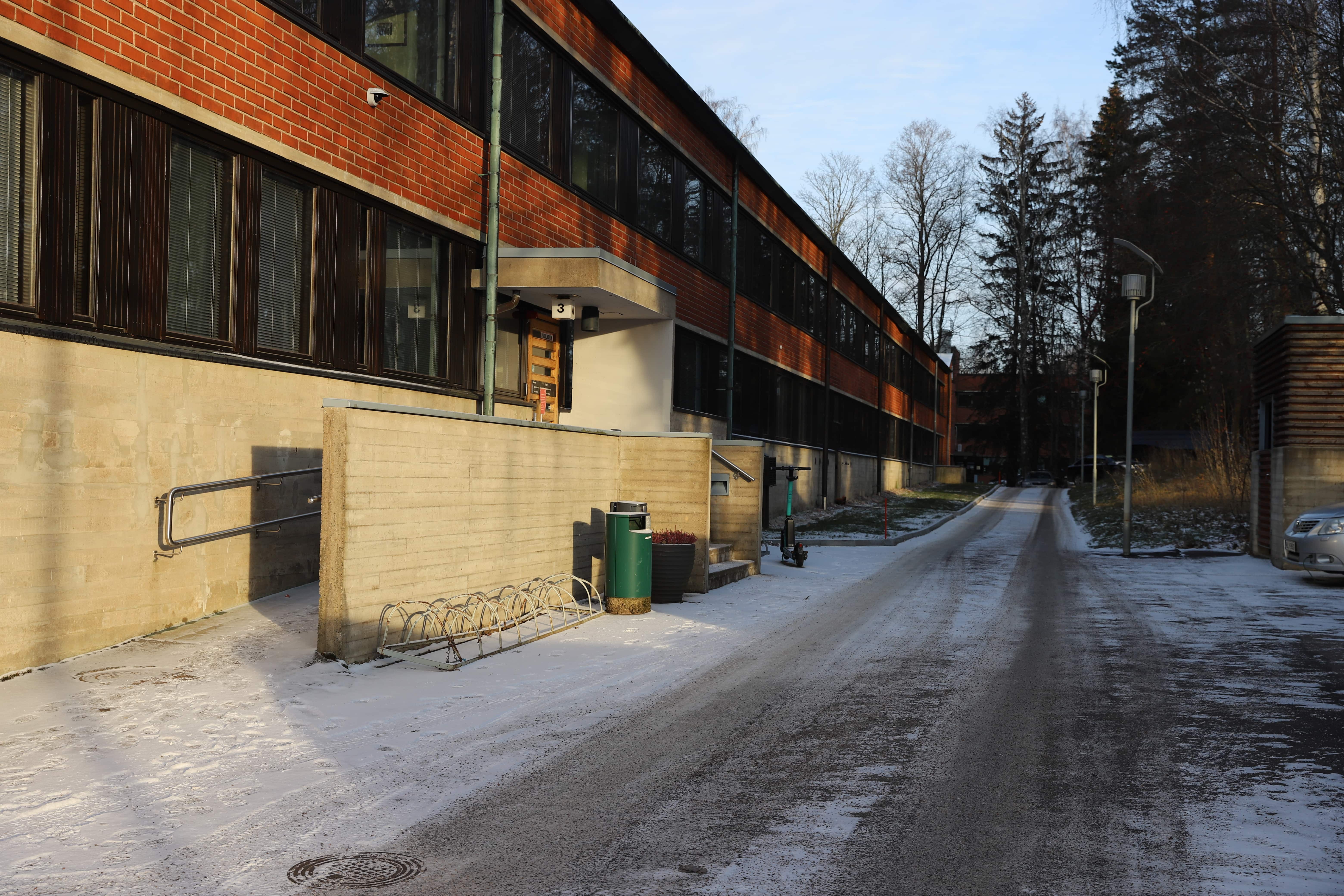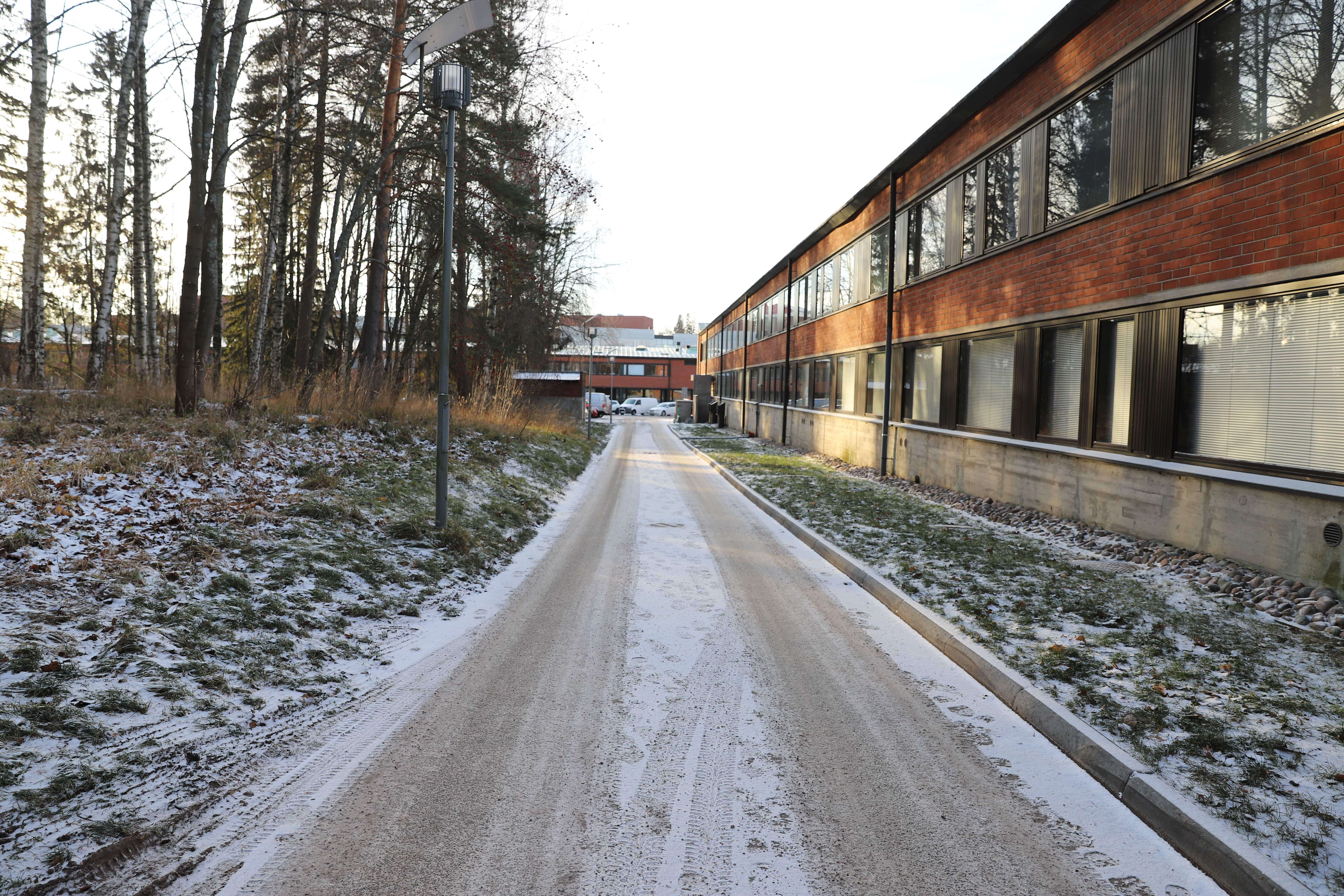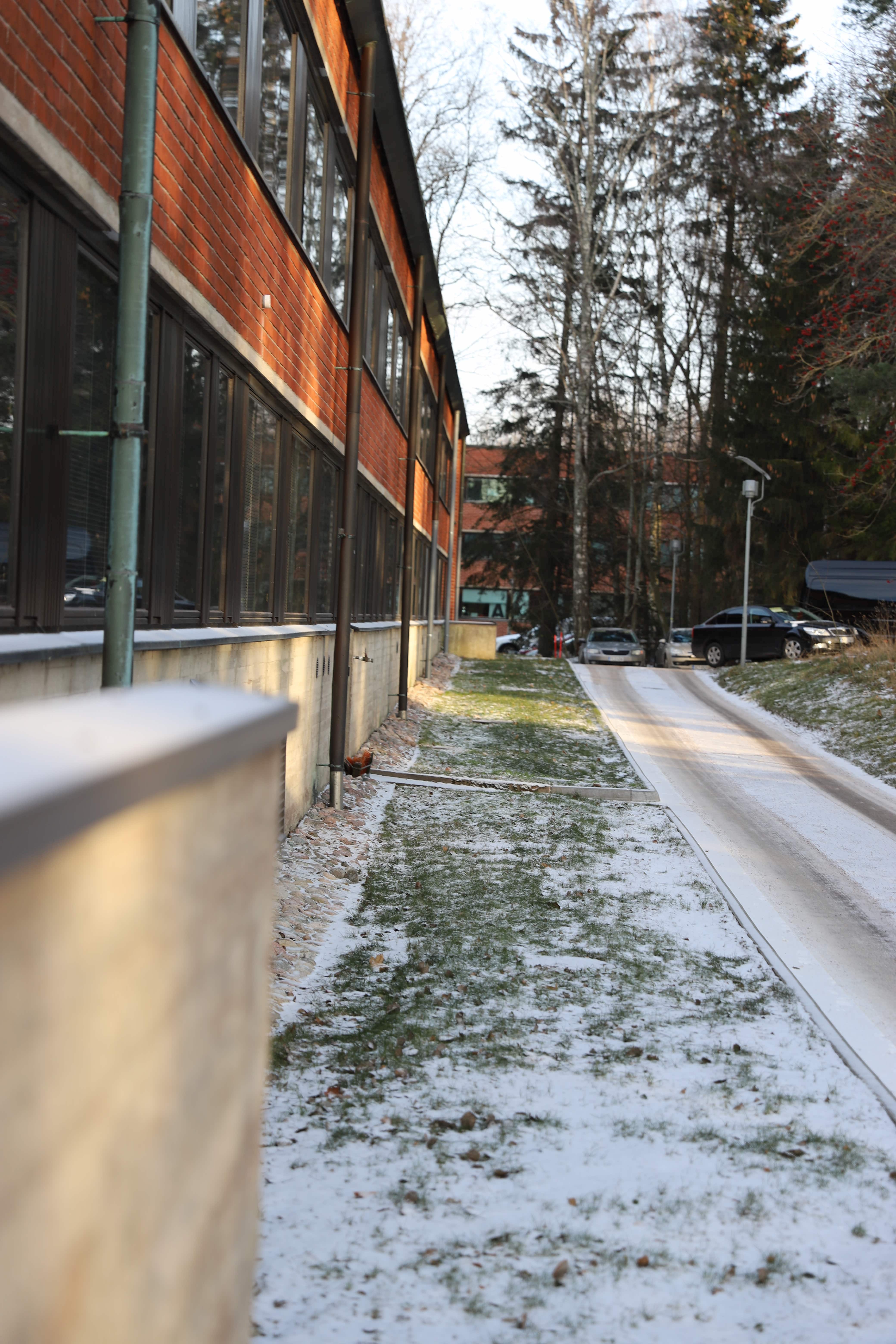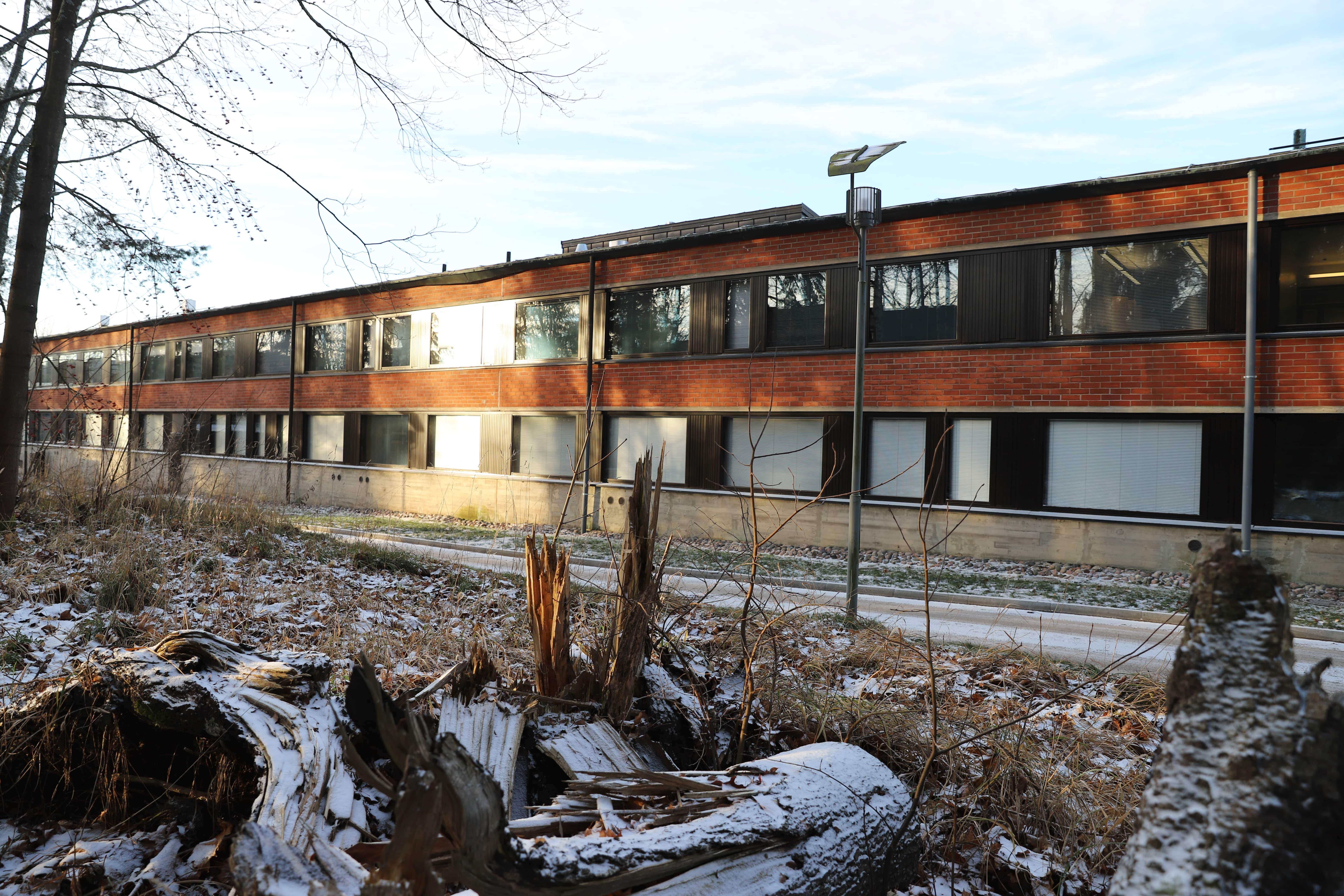 Images: Panu Sainio and Outi Turpeinen.
JURY MEMBERS
Ossi Naukkarinen, Vice President (chair)
Kaisla Soljanto, Student at the School of Arts, Design and Architecture, AYY representative
Sari Dhima, Head of Workplace development, Aalto Campus & Real Estate (ACRE)
Pedro Vilaca, Professor, School of Engineering
Zhipei Sun, Professor, School of Electrical Engineering
Helena Sederholm, Professor, School of Arts, Design and Architecture
Mia Kivinen, light designer, curator
Presenting and coordinating: Outi Turpeinen, Senior Specialist
SCHEDULE
4.1.-4.4.2022 Competition time
5/2022 Announcing the winner
1/2023 Art work ready
BUDGET FRAME
A total of 7000€ is available for the prizes. The jury will decide how to divide this sum. The maximum financial framework for the artworks is 80 000 €. This sum consists of artists' fees and material costs for the artworks. There will be a separate budget for the installment costs. Please note that the area is fairly big and the jury can decide to select multiple art works to be finalized.
HOW TO MAKE A GOOD PROPOSAL?
Be brave. Respect the themes and the surrounding architecture. Think of durability for both the idea and technique. Outside art works should be made of materials, which can stand our arctic weather. Make a good visualization. Let your ideas flow!
Handbook on the percent for art principle in Finland: https://www.julkinentaide.fi/sites/default/files/inline-files/2021-08/Percent%20For%20Art%20Principle_For_Artists.pdf
SUBMITTING A PROPOSAL
Requirements for the art proposals
The art proposal should include:
1. a description of the concept of the art work
2. a technical description
3. an estimated financial framework and
4. a visualization of the art work in a free format
Please send your art proposal as one PDF file though this link latest 3pm 4.4.2022. Late proposals will not be considered. Please do not include your name in the proposal, but use a pseudonym. Your contact information will be added through the link. The proposals will be juried anonymously. If the proposal is made by several people, please only add one contacts. One person can make several proposals.
The competition time has ended 4.4.2022 3pm.
QUESTIONS
Please send questions about the competition to the competition coordinator outi.turpeinen@aalto.fi. The answers to the questions will be uploaded to the competition website, so please check the competition site regularly.
__
Graphic design: Iisa Pappi, MA student in Visual Communication Design/ Aalto University
Made with Aalto Studios / Web Studio